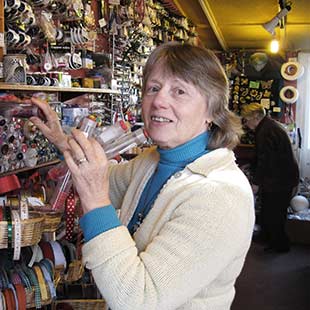 Established in 1979
Julie says "I started the shop in 1979 above The Good Earth Restaurant (www.thegoodearthwells.co.uk) then moved next door to 8 Priory Road shortly after that and we have been here ever since."
"I love talking, helping and connecting with my customers as well being surrounded by colour and lovely aromas. Luckily, choosing what I like myself seems to please my customers too."
"Whenever possible I try to stock Fair Trade products, so all our scarves, incense and most of our gifts are fairly traded or ethically sourced."
Best Sellers
"Currently our most popular lines are ribbons, buttons and felt squares, greeting cards, incense sticks, aromatherapy and massage oils, henna hair colours and our wonderful range of scarves!"